The Memorandum of Understanding concerning Conservation Measures for the Aquatic Warbler (Acrocephalus paludicola)
2015-04-21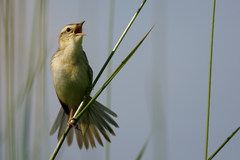 The Memorandum of Understanding concerning Conservation Measures for the Aquatic Warbler (Acrocephalus paludicola) was concluded on 30 April 2003 in Minsk, Belarus, according to Article IV of 4th Convention on the Conservation of Migratory Species of Wild Animals (also known as the Bonn Convention). Poland signed the Memorandum on 13 July 2004 and joined the signatories, thus obliging to implement the International Species Action Plan for the Aquatic Warbler (Acrocephalus paludicola), which is an integral part of the Memorandum.
The Memorandum related activities aim at removing Aquatic Warbler from the list of endangered species provided by International Union for Conservation of Nature
The size of the aquatic warbler population in Poland is estimated at 3000 of singing males, constituting almost one fourth of world population. It means special responsibility on the Polish side in terms of protection activities.
The official website of the Agreement on the Protection of the Aquatic Warbler

Polish website dedicated to the Agreement on the Protection of Aquatic Warbler

Secretariat of the Agreement on the Conservation of the Aquatic Warbler
sekretariat.wodniczka@gdos.gov.pl